In today's world, where staying connected to technology is crucial, having a reliable source of power is essential. You need the best budget portable power station for your outdoor adventures and trips if you are short on budget.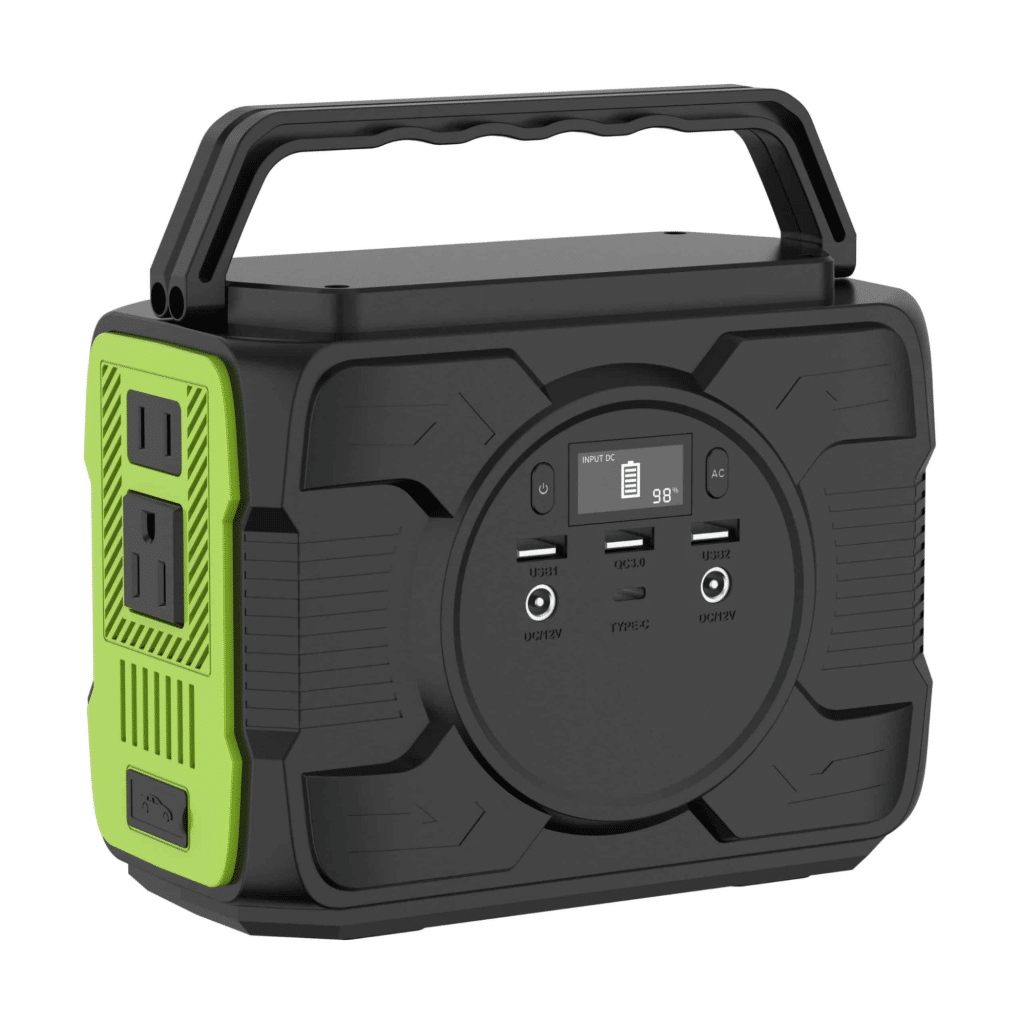 According to research, most people love outdoor trips and adventures but are afraid of the problems they might face. One of the major problems that most people face in such situations is the unavailability of electricity.
Portable power stations are considered one of the best sources of electricity to deal with trips, adventures, and emergency crises. Keep reading to know more about the top ten best budget portable power stations, along with a short buying guide.
Top 10 Best Budget Portable Power Stations
Here are the ten best budget portable power stations we consider the best companions for outdoor trips and adventures. However, for some more bucks, you can find better options that you can recharge with a portable solar panel. Let's have a look at our top picks.
SunlyPower SL300 portable power station is our top pick for outdoor adventures, trips, or any emergency crisis. It is the most durable, reliable, and long-lasting power station that can meet all your requirements. Moreover, it is eco-friendly and works quietly.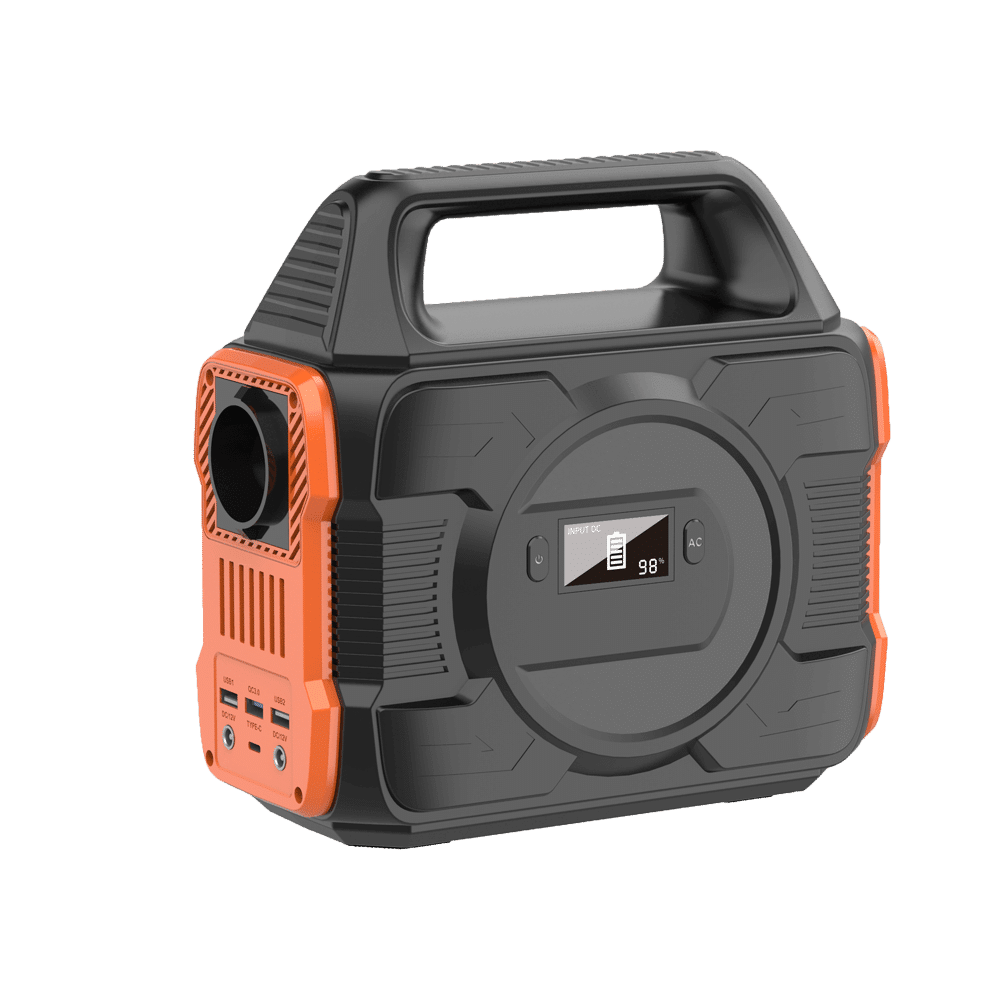 SunlyPower SL300 Features
It comes with a lithium battery that offers 288Wh/80,000mAh of battery capacity.
The SL300 is equipped with a pure sine wave inverter and an LED power of 7W.
It is made with high-quality materials, including ABS+PC housing.
Also supports solar panel charging with MPPT technology.
This power station has a cycle life of 500 times.
It is the overall best option available at the most reasonable price.
SunlyPower SL300 Portable Power Station
PROS
CONS
Robust Battery
Eco friendly
Highly reliable and compatible
Not suitable for long trips
Westinghouse iGen200s Power Station is the second best on our list, with a lithium-ion battery and a weight of only four pounds. It can power multiple electronic devices with 194 Watt-hours of power, 150 continuous watts, and 300 peak watts.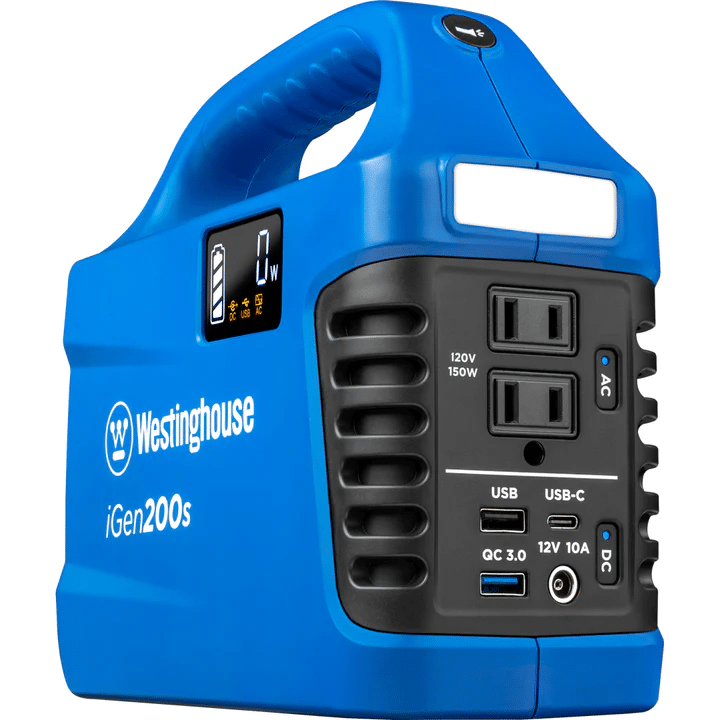 Westinghouse Igen 200s Features
It has a solar panel capability that allows for eco-friendly charging.
It includes three USB ports, one 12V DC outlet, and two 120V household outlets.
It can power up to nine devices simultaneously.
Comes with a lock feature to prevent accidental power drainage.
The LED display shows the power station's wattage, charging status, and battery life.
Comes with built-in safety features to protect the battery and connected devices.
Westinghouse Igen 200s Portable Power Station
PROS
CONS
Eco friendly
Lightweight
Easy-to-use interface
Can charge multiple devices
Takes more time to recharge
The VTOMAN Jump 600 portable power station is the most reliable and safe power generator with a capacity of 299Wh. It features a super safe LIFE BMS protection system, providing protection against several safety risks.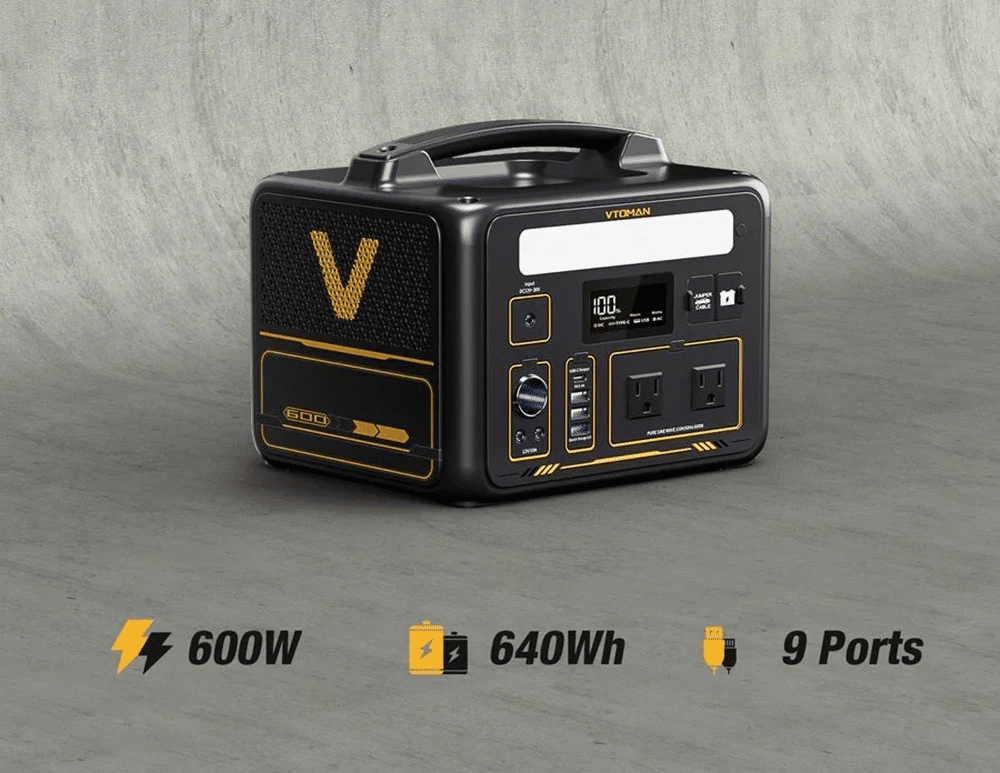 VTOMAN Jump 600 Features
You can expand the 299 Wh battery capacity to 939Wh with an additional battery.
The built-in premium LiFePO4 battery has a long lifespan of up to 3,000 full cycles.
You may recharge it with a wall charger, car outlet, or a solar panel.
Its fast charging allows it to reach 80% capacity within 4 hours of charging.
It can charge up to nine devices simultaneously.
VTOMAN Jump 600 Portable Power Station
PROS
CONS
Expandable battery
Fast charging
Can charge up to nine devices
Charging it with a solar panel may take a lot of time.
The Jackery Explorer 240 is recognized as the best budget portable power station for camping and outdoor use. The Jackery Explorer 240 is also an eco-friendly option, as it comes with a built-in MPPT controller that maximizes solar recharging efficiency.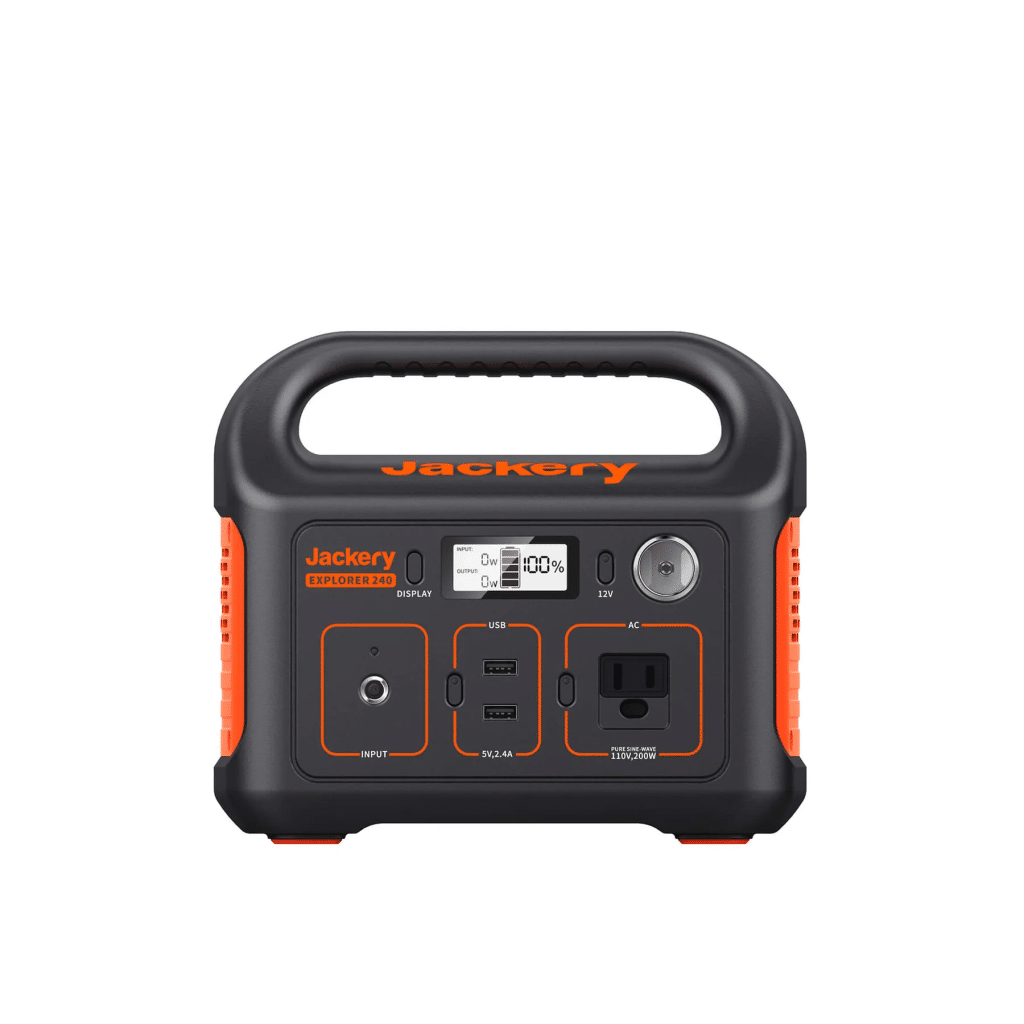 Jackery Explorer 240 Features
It comes equipped with a 240-watt-hour (16.8Ah, 14.4V) lithium-ion battery pack.
Its lightweight and solid handle makes it highly portable.
It also offers a push-button operation that is user-friendly and straightforward.
You can recharge it using a wall outlet, car outlet, solar panel, or generator.
Offers versatile output ports, including 1 AC outlet, 2 USB-A ports, and a DC carport.
Jackery Portable Power Station Explorer 240
PROS
CONS
Eco friendly
Solid construction
User friendly
Highly portable
240 W power is not enough to charge a fridge
The EBL Portable Power Station 500w is a solar generator that has a backup lithium battery capacity of 519.4Wh. It is designed for outdoor events and home emergency use. Moreover, it features the latest fast charging technology and can be fully charged in 6-9 hours.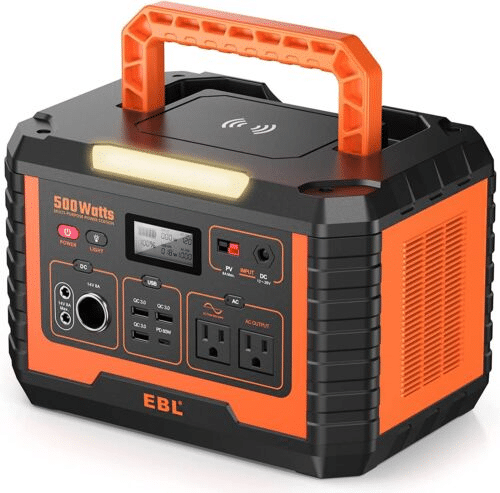 EBL 500 Features
It is highly portable and lightweight, with a weight of almost 6kg.
Comes with multiple charging options, including a compatible 100W solar panel.
Offers a rated power of 500W and overload protection of 550 ± 40W.
Also gives a pure sine wave output waveform.
Comes with an input voltage of 12-26V and a recharging temperature of 32-104°F.
EBL Portable Power Station 500
PROS
CONS
Multiple charging options
Highly portable and lightweight
100 W Solar panel included
USB ports are not durable
The HOWEASY 260W Portable Power Station is a versatile power source for outdoor and emergency use. It comes with 9 output ports, including 2 AC outlets, 1 Type-C port, 3 USB-A ports, and 3 12V-DC ports. Moreover, it is available at the most affordable prices on amazon.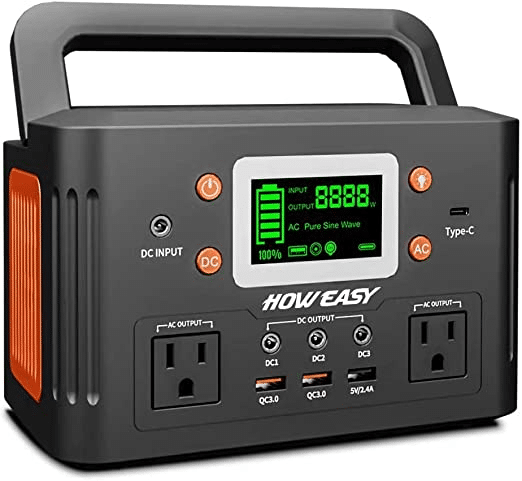 Best Features
It weighs only five pounds making it highly portable.
It has a built-in torch LED with four lighting modes.
It is equipped with a lithium battery pack.
You can charge it via an 18-24 volt solar panel, AC wall adapter, or 24V car charger.
It comes with multiple protective features ensuring its reliability and long use.
HOWEASY 260W Portable Power Station
PROS
CONS
Extremely lightweight
Excellent Design
Multiple charging options
Battery drains quickly
The ALLWEI Portable Power Station is a compact, powerful backup battery for outdoor activities and home emergencies. The power station is ETL certified and has an ultra-safe battery management system with full protection for charging and discharging simultaneously.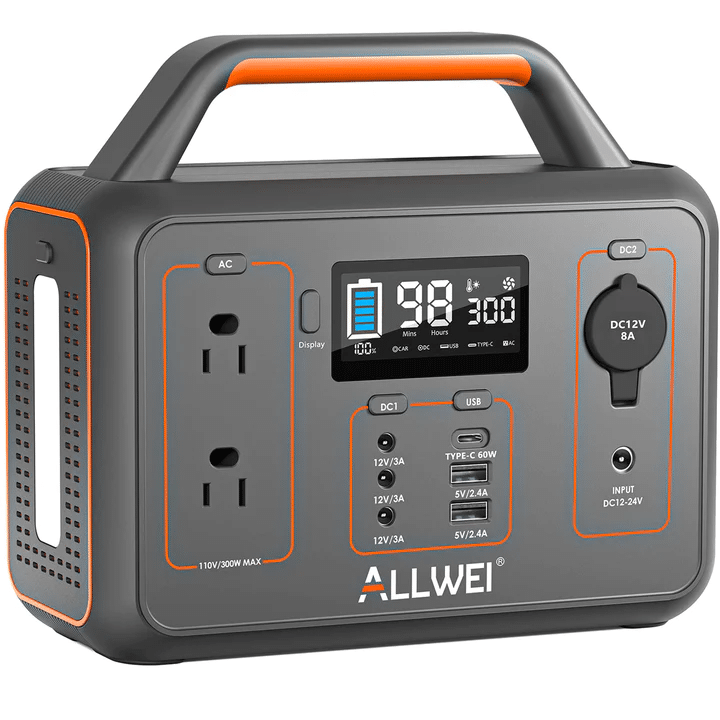 ALLWEI 300W Features
It offers multiple output options, including 2 AC outlets, 3 DC ports, and 2 USB ports.
You can charge it via solar panels, an AC wall outlet, or a car socket.
It only weighs 6.5 lbs making it highly portable for outdoor use.
It has a USB-C PD60W and a 110V pure sine wave AC outlet with a peak of 600W.
It comes with an overall battery capacity of 280Wh with a 600W peak.
ALLWEI Portable Power Station 300W
PROS
CONS
Multiple output options
Lightweight
Decent design
Material quality is not good
The EcoFlow RIVER Portable Power Station can power up to 9 devices at once with two pure sine wave AC outlets. Moreover, it has a handsome battery capacity of 288Wh, which is enough for charging small devices such as smartphones, tablets, etc.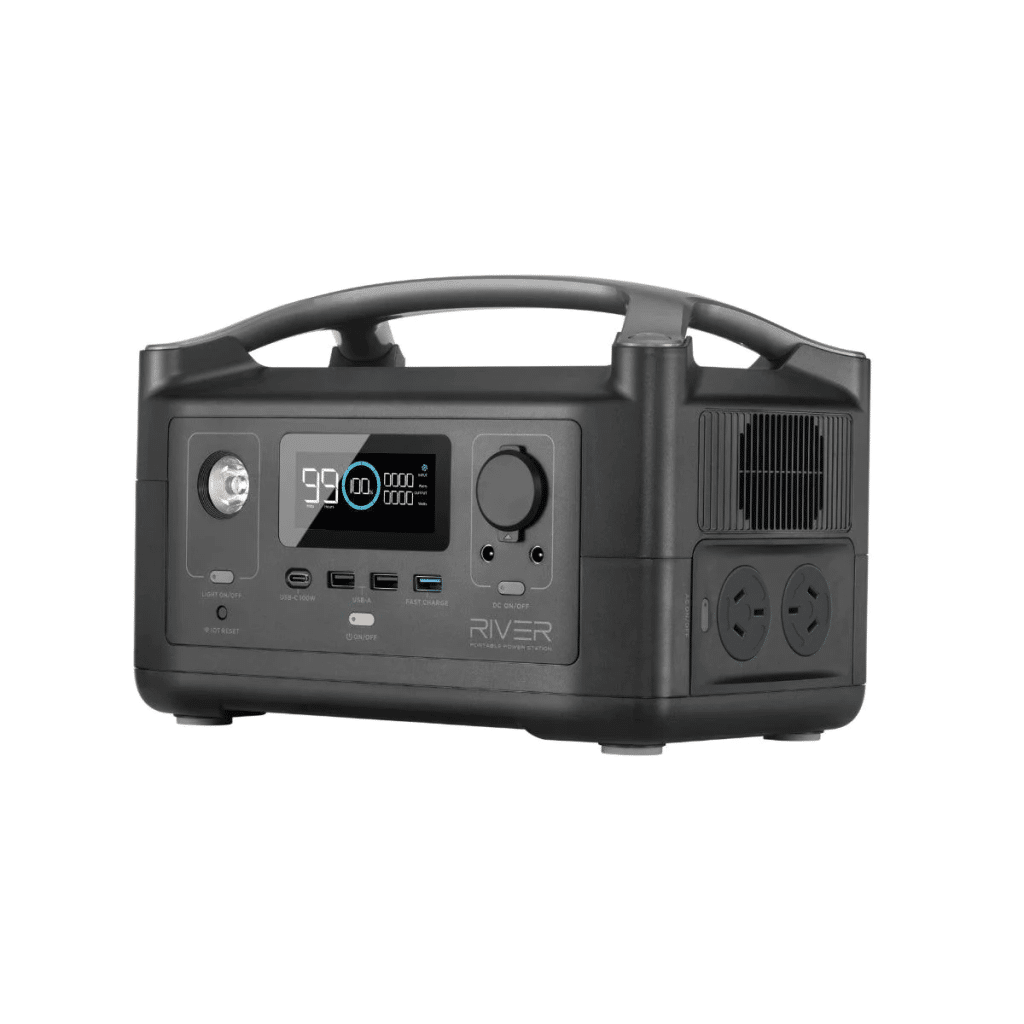 EF ECOFLOW RIVER 2 Features
It can recharge from 0% to 80% within 1 hour with EcoFlow's X-Stream Technology.
The device can power some appliances up to 1800W with the X-Boost mode on.
You can double its capacity from 288Wh to 576Wh with an Extra Battery.
The device is slightly larger in size than a toaster making it perfect for mobility.
Last but not least, it is compatible with 80% of home appliances.
EF ECOFLOW Portable Power Station RIVER 2
PROS
CONS
Fast charging
Features X-boost mode
Expandable battery
Not compatible with all home appliances
The BLUETTI EB3A Portable Power Station is a high-performance, versatile power solution for outdoor enthusiasts and emergency situations. The Bluetti portable power station company also offers its mobile app.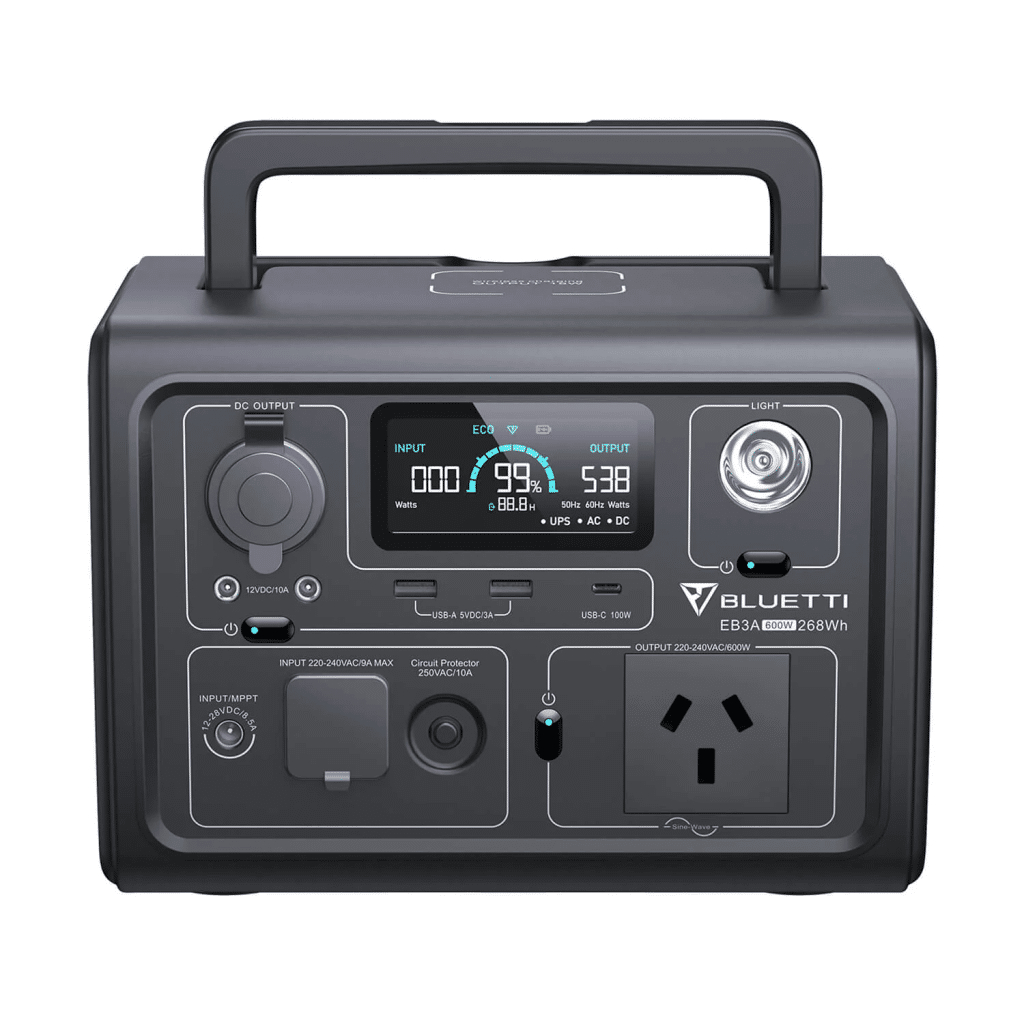 Bluetti EB3A Features
It can provide power hours depending on the actual output.
With a surge capacity of 1200W, it can power a wide range of electrical devices.
Its fast dual-charging capability allows it to charge via both solar and AC sources.
It comes equipped with 8 outputs for charging multiple devices at once.
The best thing is that it comes with a BLUETTI mobile app.
It is equipped with a LiFePO4 battery that has a lifespan of over 2,500 cycles to 80%.
Bluetti Portable Power Station EB3A
PROS
CONS
Bluetti mobile app
Strong battery
Fast charging
Multiple ports
Solar charging is not long-lasting.
The Hiker U300 Portable Power Station is a reliable, long-lasting power source for outdoor adventures or backup power needs. It comes with a wireless charging top that allows you to easily charge your phone without the hassle of finding a cable.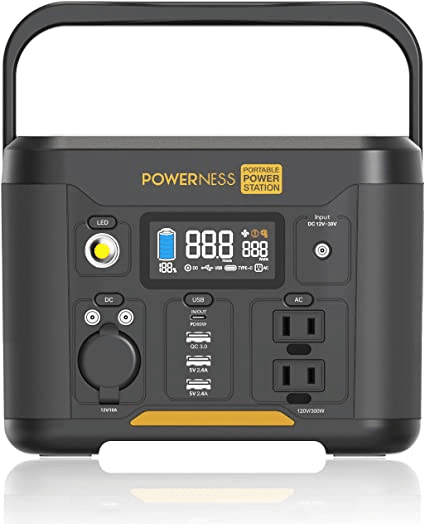 Powerness Hiker U300 Features
This rechargeable lithium-ion battery-based power station has a capacity of 296Wh.
It is designed with safety and portability in mind.
It comes with a foldable handle that makes the portability and storage easier.
The power station is made with a Grade-A battery and chips for extra safety.
It offers compatibility with a SolarX S80 or S120 Solar Panel for charging purposes.
Powerness Portable Power Station Hiker U300
PROS
CONS
Highly portable
Safe to use
Compatible with solar power
Simple design which some people may not like
What To Look For In A Budget Portable Power Station
Some people think that you can't buy a great portable power station with a small budget. However, if you know what to look for in a power station, you may easily find a perfect choice. Here are some things to consider while buying a portable power station from a store.
Portability
When choosing a budget portable power station, it's important to consider its size, weight, and ease of transport. A power station with a lightweight and compact design is considered to be best for portability. Also, make sure that the handle is easy to grip.
Price Point
Do proper research on various models of power stations available in your budget range. This will help you get the best one at the most reasonable price. You may also consider our list of the ten best budget portable power stations, as they offer great features at minimal prices.
Battery Capacity
The battery capacity determines how much power a power station can hold and how long it can provide power to your devices. Look for models with higher-capacity batteries if you need to power more devices for longer periods of time.
Charge Time
Most people prefer buying gadgets with less charge time. The charge time can vary greatly depending on the model and the charging method used. Select the one with a short charge time or buy other charging options, such as a solar panel, to speed up recharge.
Output/Input Ports
The output ports on your power station determine what type of devices it can recharge. The input ports show the charging methods or options available. Always go for the one with a variety of input/output ports to get more options in case of an emergency.
Final Words
In conclusion, a reliable power source is crucial today, especially for outdoor adventures and trips. SunlyPower is the best portable power station supplier that offers a wholesale portable power station at the most competitive price.
When purchasing a portable power station, it is crucial to consider the battery capacity, charging options, weight, and safety features. With these factors in mind, you can make an informed decision when choosing the best budget portable power station for your needs.