Portable power stations are getting popular nowadays as they are a reliable source of power when you are off-grid. Most people who love outdoor camps and adventure trips always seek the best-rated portable power station. However, not everyone gets the right pick for their trip.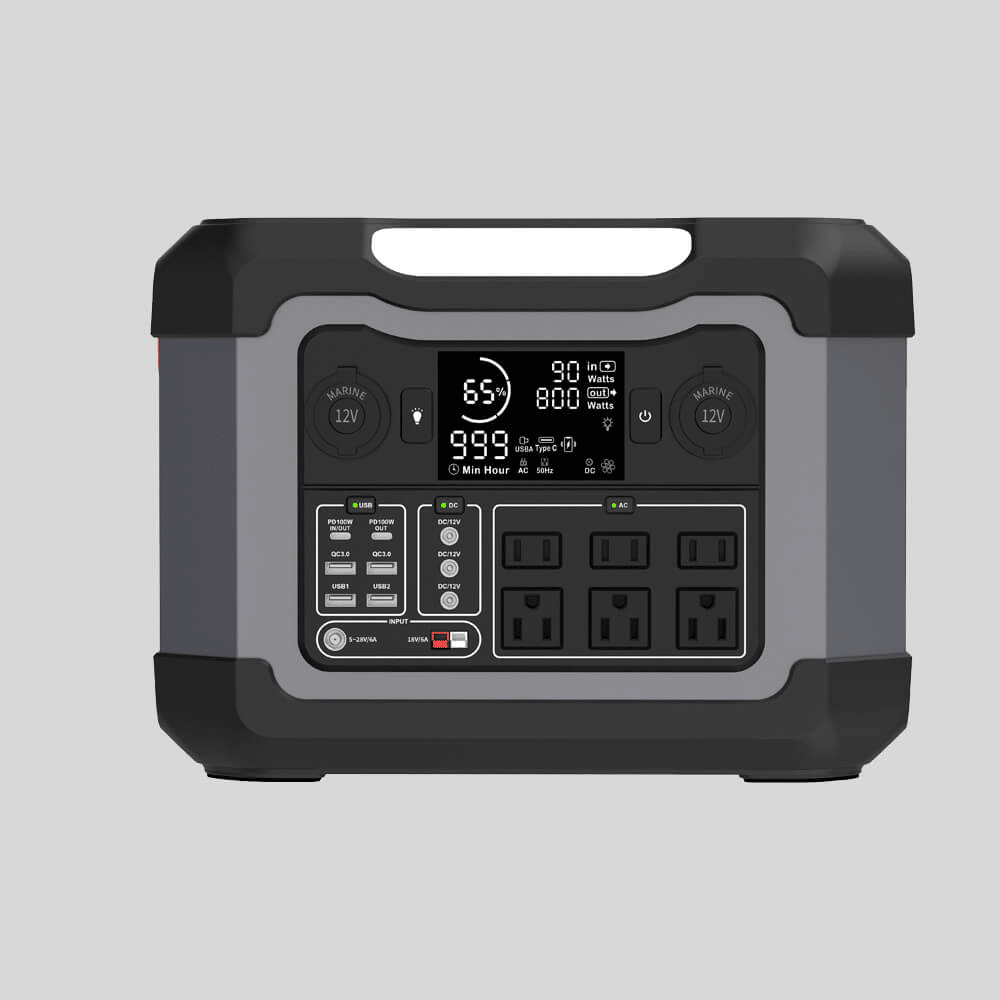 A portable power station is a rechargeable battery-powered generator that you can use to power electrical devices and appliances. It typically features multiple outlets, including AC outlets for charging purposes, as well as USB ports and sometimes even car charging ports.
We've put together this guide to the best-rated portable power stations, complete with reviews and a buying guide. Here you can get a list of the ten best portable stations of various brands at different price points. Give it a few minutes to get the best companion for your trip.
Reviews of 10 Best-Rated Power Stations
Here are the reviews of the ten best-rated power stations in the market that you can use to get power on various occasions. While creating this list, we have taken into account several factors, such as battery capacity, power output, and durability. Let's start with our top pick for you.
SunlyPower Portable Power Station is a high-quality and convenient power solution offered by a renowned portable power station supplier SunlyPower. It is lightweight and has a compact size making it highly portable. Its features make it the best portable power station for camping.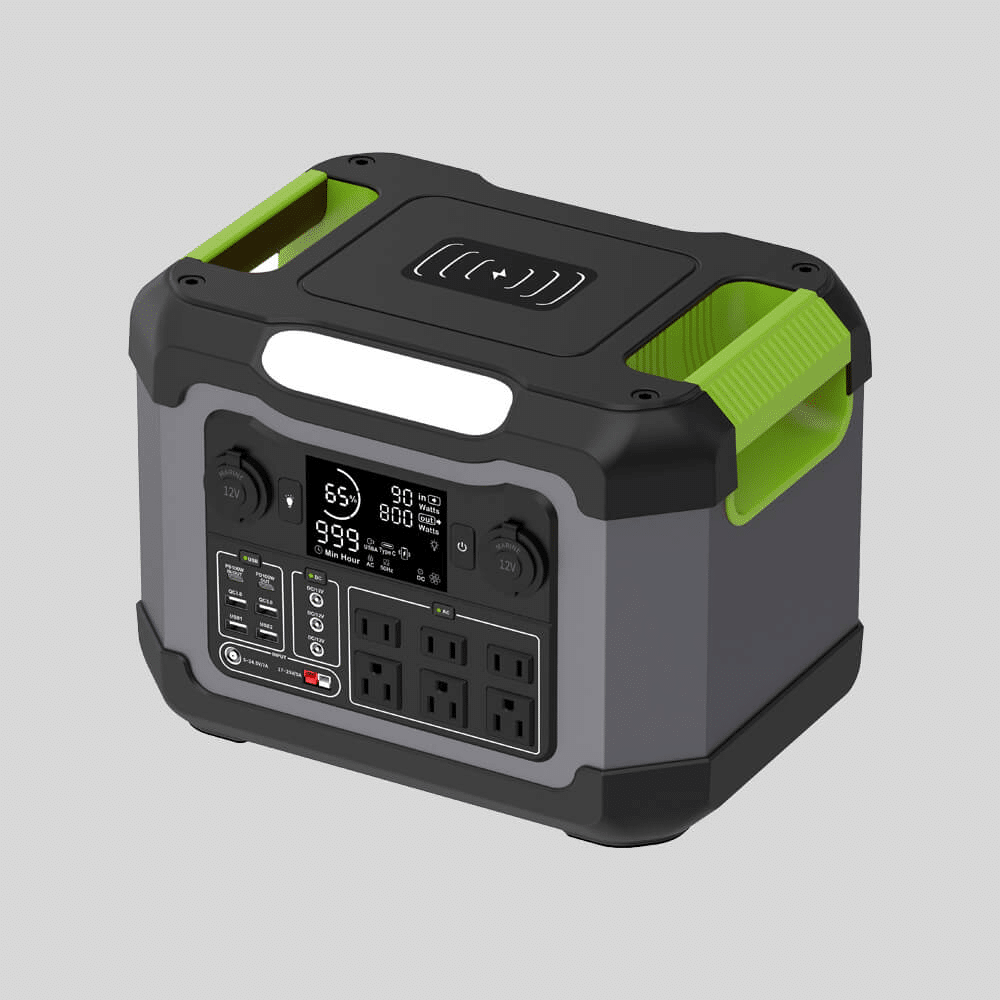 SunlyPower 1200 Features
It comes with a battery capacity of 22V/50Ah/1080Wh.
It has an AC-rated power of 1200 Watts.
You get multiple input and output options, increasing its reliability.
Its most unique feature is that it offers an 18V/6A solar panel input.
The perfect combination of Aluminium alloy and Plastic increases its durability.
It has a cycle life of 2000(80%).
SunlyPower 1200W Portable Power Station
PROS
CONS
Durable Design
High Battery Capacity
Premium Quality Material
Multiple Output Ports
Expensive
Westinghouse Igen 300s Power Station is the second-best power station on our list. It comes with built-in safety features and can charge up to 9 devices at a time. Its durability, reliability, and performance make it a perfect choice for camping, road trips, and outdoor parties.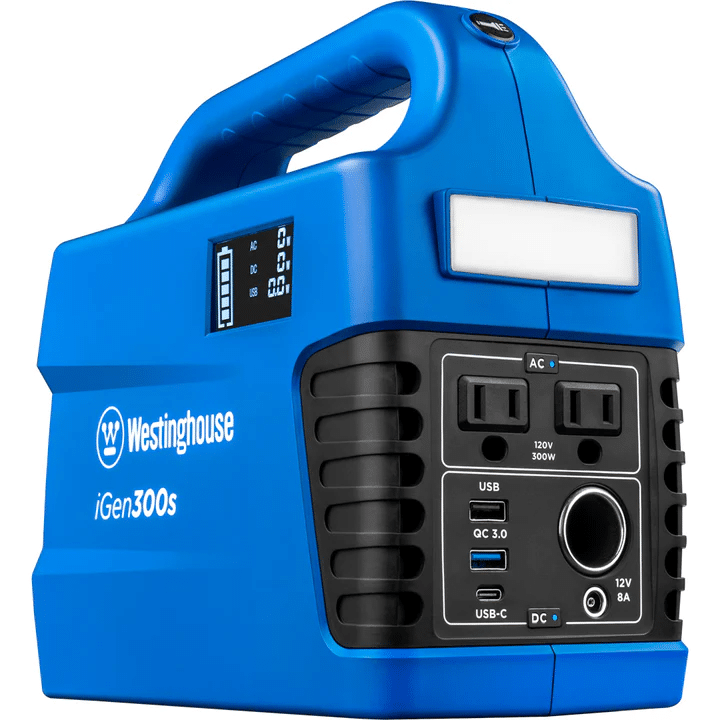 Westinghouse Igen 300 Features
It can provide 296 Watt-hours of power with 300 continuous watts and 600 peak watts.
It has a control panel with three USB outlets, two household outlets, and a 12V DC port.
It has an LED display showing wattage, charging status, and remaining battery.
Offers a rechargeable Lithium-ion battery that is fumeless and noiseless.
This portable power station weighs only 6 lbs.
Westinghouse Igen 300 Portable Power Station
PROS
CONS
Eco friendly
Lightweight
Premium Quality Material
Multiple Output Ports
Limited Features
If you are looking for a portable power station for outdoor and emergency use, we recommend Rockpals 500W Portable Power Station. With its high battery capacity, it can provide sufficient power for your one-day adventure camp. Moreover, its lightweight makes it highly portable.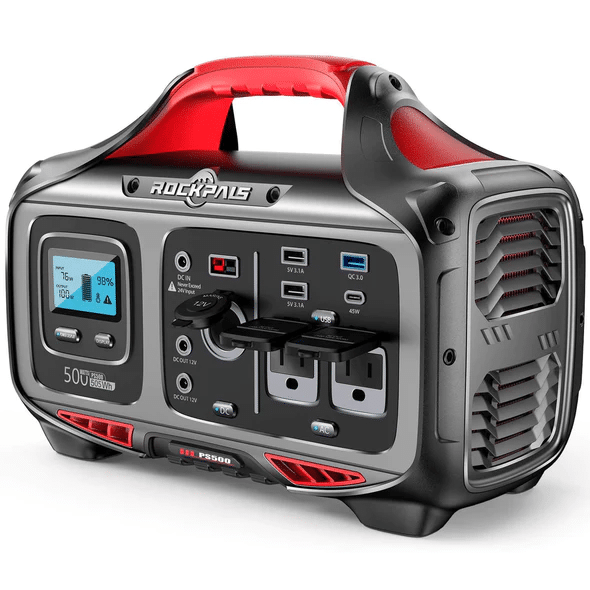 Rockpals 500W Features
You can recharge this power station through multiple methods.
It takes 7-8 hours to fully charge with an AC outlet or car adapter.
It is built with a lithium-ion battery that can last for at least 500 lifecycles.
It also has a rugged and durable design that can withstand outdoor conditions.
Rockpals 500W Portable Power Station
PROS
CONS
Durable Design
500 lifecycles battery
Premium Quality Material
Multiple recharge methods
Takes almost 8 hours to recharge
The Jackery Explorer 1000 Power Station is a reliable and powerful power source that can meet the needs of most electrical appliances. Its large capacity and multiple output ports make it useful for a variety of needs. Moreover, it is portable and can be recharged with solar power.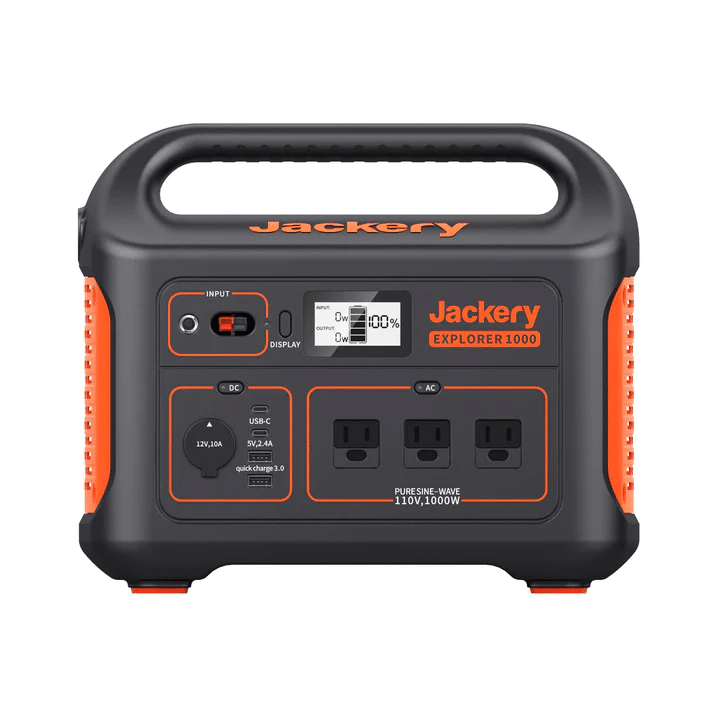 Jackery Explorer 1000 Features
With 22 lbs weight, it is portable and compact, with a solid handle for easy carrying.
You can turn it into a Solar Generator 1000 by connecting two 100W solar panels.
It features an LCD screen with charge/discharge data and battery life status for safety.
It offers a 1002 Wh battery capacity and 1000 W continuous and 2000 W surge power.
Jackery Explorer 1000 Portable Power Station
PROS
CONS
4-ways to charge your portable power station
Durable Aluminum casing
LCD screen for ease of use
Only compatible with 12V/10A car adapters
Igen160s Portable Power Station is a great option for those looking for a portable and efficient power source. It features overload protection, short circuit protection, and automatic voltage regulation to ensure safety. Its small size and lightweight design make it highly portable.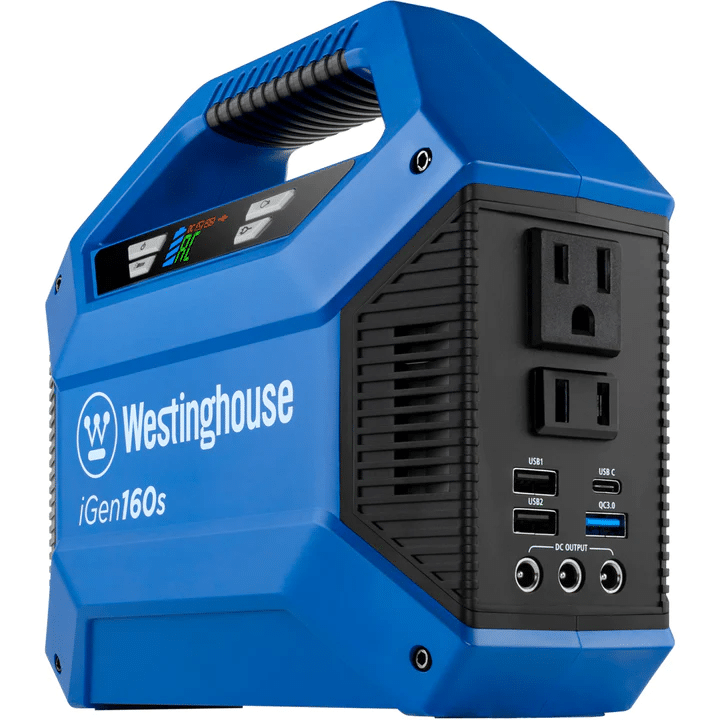 Igen 160s Features
At only 3.75 pounds, this power station is incredibly lightweight and easy to carry.
It comes with multiple charging options for added convenience.
It uses a 155Wh lithium-ion battery which is quite popular in power stations.
It has a runtime of up to 7.7 hours at 50% load and can be recharged in several ways.
It has an LED display that shows the battery level, output power, and charging status.
Igen 160s Portable Power Station
PROS
CONS
Eco friendly
Weighs only 3.75 pounds
Strong battery
Multiple charging options
Takes 8 hours to recharge
Anker Powerhouse is a portable power station with a massive cell capacity that can provide ample power for various devices. It is a perfect option for an emergency backup or for outdoor activities like camping, RVing, and van life. Moreover, it also has a solar charging feature.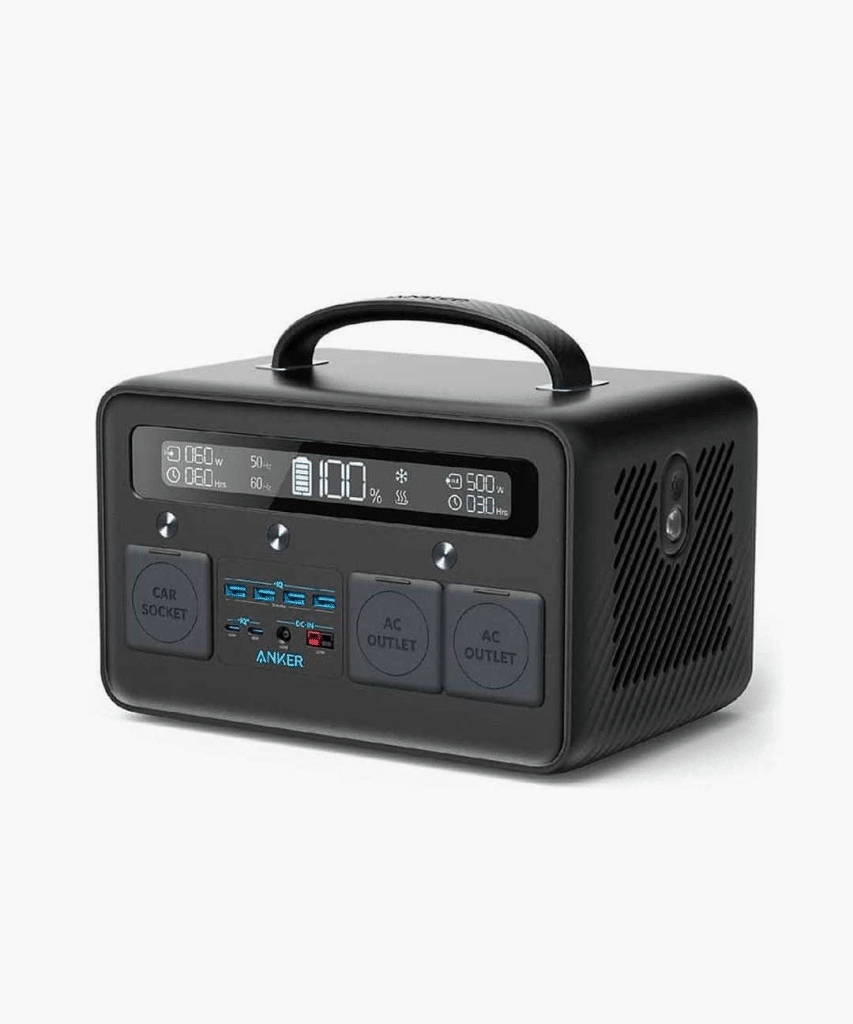 Anker Powerhouse 800 Features
It features a massive cell capacity of 777 watt-hours.
It offers several output options, including 2 AC, 2 USB-C, 4 USB-A, and 2 DC outlets.
Charges devices as fast as possible with zero interference at full load.
It can be recharged in as little as 4.9 hours with the combined DC and USB-C inputs.
Anker Powerhouse II 800 Portable Power Station
PROS
CONS
Large battery capacity
Multiple output ports
Fast charging
Solar panel is not included in pack
The Portable Power Station M440 is a versatile and reliable backup power source for emergencies, power outages, and outdoor camps. With a large capacity of 222Wh/60000mAh, it can power up several devices, such as cell phones, laptops, mini-fridges, and CPAP machines.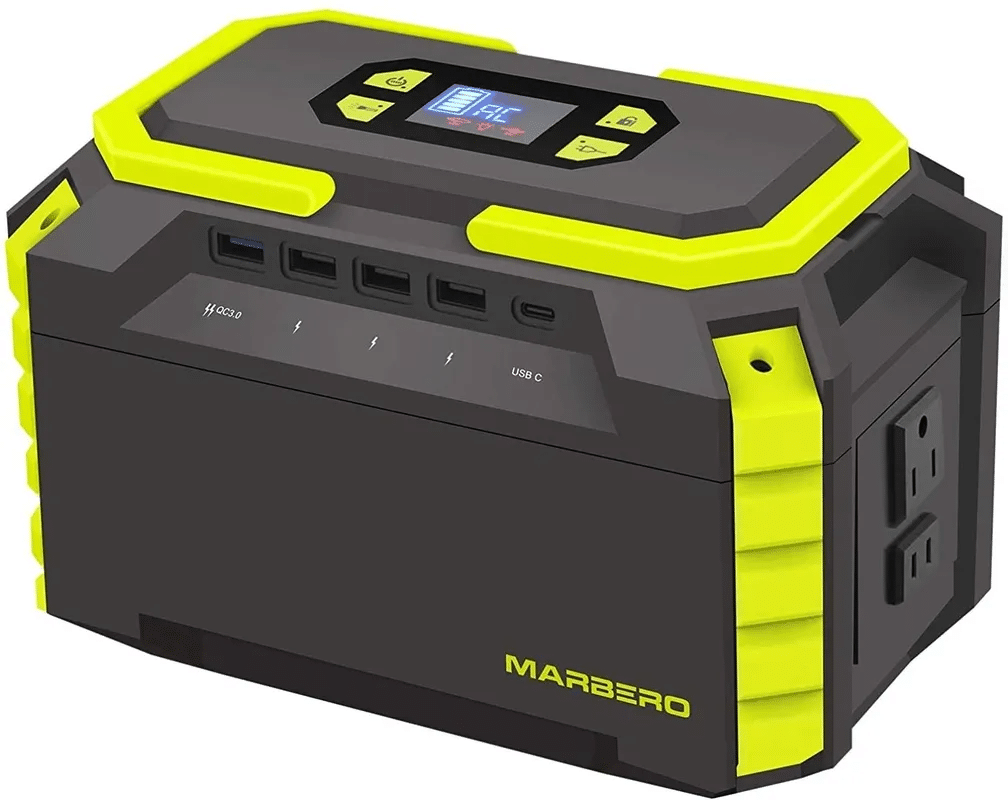 Marbero M440 Features
It features 2 built-in LED flashlights with three brightness levels and two lighting modes.
It can be recharged in three ways: by a wall outlet, a car adapter, or by a solar panel.
It is equipped with BMS technology that provides advanced safety controls.
The cooling vents on its back help the M440 stay in a constant temperature range.
Marbero M440 Portable Power Station
PROS
CONS
Elegant design
Multiple charging methods
Advanced safety controls
Takes 9 hours for a full-recharge
The massive power capacity of the Oukitel P2001 Portable Power Station makes it suitable for charging multiple electrical devices simultaneously. Moreover, it is equipped with a range of safety features, including overvoltage, built-in fan, overcurrent, and short circuit protection.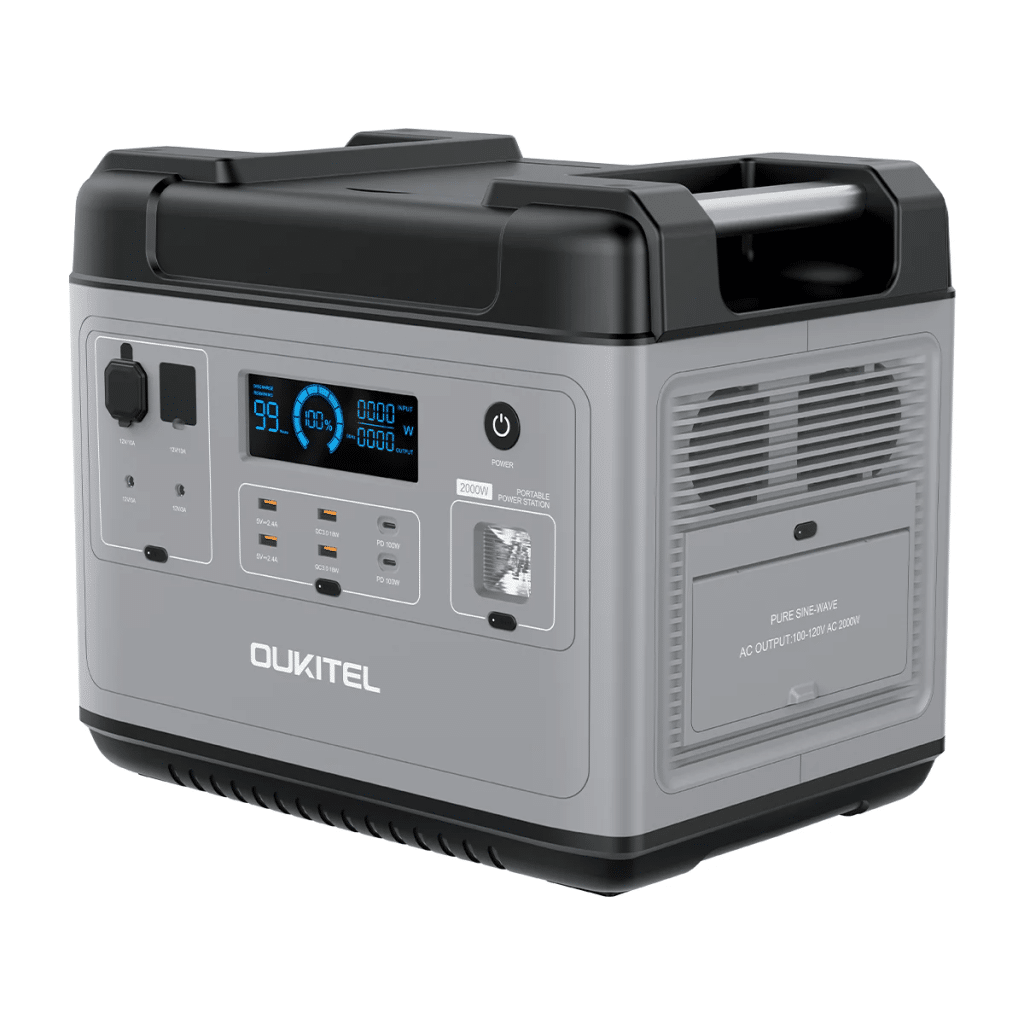 OUKITEL P2001 Features
It includes an LCD that shows battery level, charging status and power usage.
Offers various charging options, including wall outlets, solar panels, carports, etc.
It boasts a massive 2000Wh capacity.
It only takes 1.5 hours to charge from 0 to 100% using an input of 1500W power.
Compatible with any solar panels on the market, with a range of 12-48V and up to 500W.
OUKITEL P2001 Portable Power Station
PROS
CONS
Fast charging
Massive Battery Capacity
Durable design
Not compatible with solar panels above 500W.
The Ecoflow portable power station Delta 1300 is a solar-powered generator that can provide eco-friendly power during a power crisis. It has a huge AC output that can provide enough power for almost all sorts of devices. It has multiple output ports for charging multiple devices.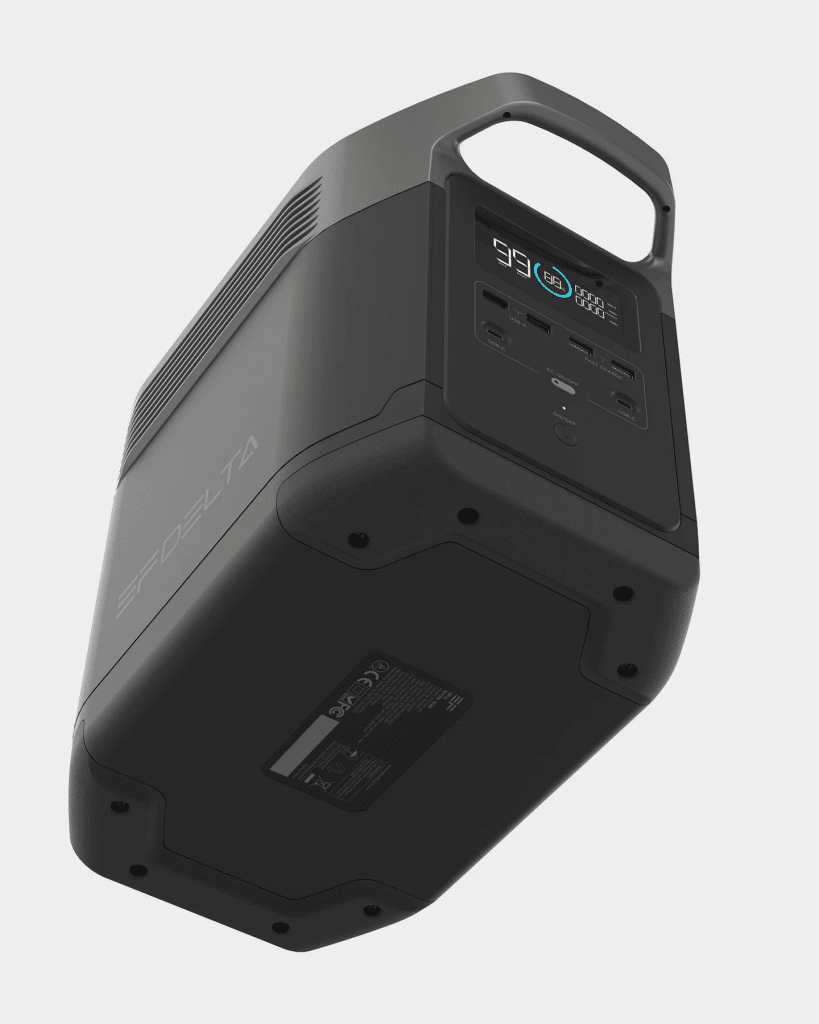 EF Ecoflow Delta 1300 Features
Its six AC outlets and a capacity of 1260Wh allow it to power up to 13 devices.
With its fast charging feature, this power station can charge from 0-80% within 1 hour.
It is equipped with a massive 1.2kWh capacity, making it suitable for hours of backup.
Its huge AC output can support power tools up to 1800W.
EF Ecoflow Portable Power Station Delta 1300
PROS
CONS
Large battery capacity
Can power up to 13 devices simultaneously
Fast charging
May not be suitable for an electric heater
The Goal Zero Yeti 1500X Portable Power Station can power up all sorts of electrical appliances, from smartphones to large fridges. It provides safe, clean power for various activities, such as camping, tailgating, off-grid events, and emergency home backup.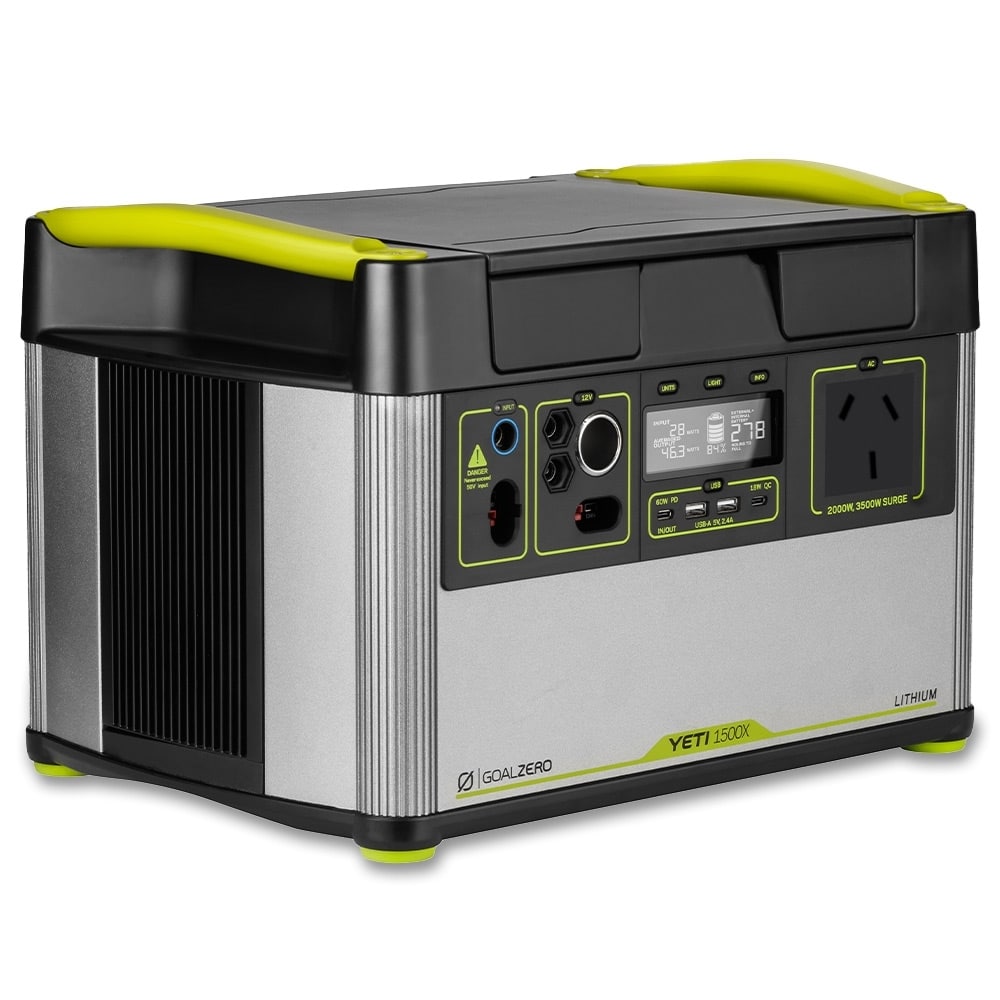 Best Features
Features a lithium-ion battery at its core, which eliminates the need for a gas generator.
It has an increased 2000W AC (3500W Surge) inverter.
As it is solar powered, it can make clean and environment-friendly power anywhere.
It comes with the Yeti App, which allows you to monitor and control your power usage.
The integrated MPPT charge controller ensures the most efficient solar charge possible.
It can provide unlimited power for various activities and situations.
Goal Zero Yeti 1500X Portable Power Station
PROS
CONS
User friendly
Environment friendly
Integrated MTTP Charge controller
Solar charging is not durable
Things To Consider While Buying A Portable Power Station
Did you like any portable power stations on our list, or do you have another option in mind? Well, you can visit online stores or go to a market and buy a power station that suits you. However, you should consider these factors while purchasing a portable power station.
Portability
As you are looking for a portable power station, portability is the most important factor to consider. It must be lightweight, compact, and easy to carry around. Buying the one with heavy weight is not worth the price if you are looking for a portable power station.
Battery Capacity
The battery capacity of a power station is also one of the most important factors to consider. It determines how much power you can draw from the device and how long it can power your devices. You must be clear about your requirements to make the right purchase.
Output/Input Ports
How many devices do you want to charge with your portable power station? Normally, people prefer those with maximum input/output ports. However, you can go with one of your choices. Also, ensure that all the ports are compatible with the devices you plan to use.
Safety And Durability
It needs to be made of durable material as portable power stations are mostly used for outdoor activities and have to face tough situations. Most power stations come with in-built safety features that shut down the power station in case of short-circuiting.
Station Price
Keep your budget in mind while looking at several options. Don't worry if you are low on budget. With a little effort, you can find the right power station at the price of your choice. Also, don't add unnecessary features to your power station that you don't need.
Final Words
In conclusion, portable power stations have become popular as people are looking for more versatile and eco-friendly alternatives to gas generators. SunlyPower is the best portable power station company that offers quiet and fumeless wholesale portable power stations.
This was all about the top-rated portable power station ratings and reviews. We mentioned a list of top-rated portable power stations and a buying guide that might help you while buying physically. Select the best-rated portable power station for your outdoor trips and adventures.