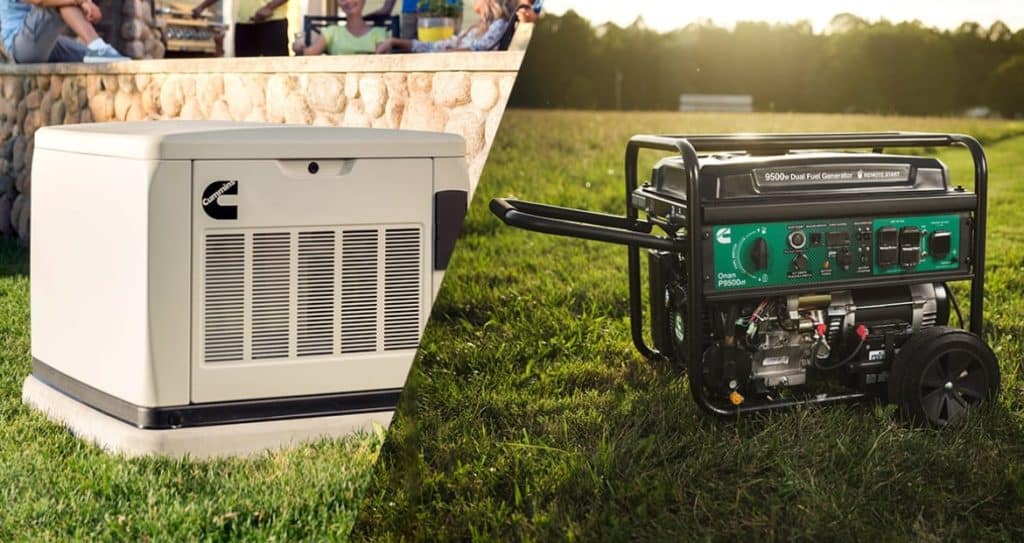 Image Source: Cummins
One of the best ways to combat potential power outages, inclement weather, and natural disasters is to invest in backup power generators. But with different brands in the market, it can be challenging to select one. This guide will detail the difference between standby and portable generators so you can decide which is worth your investment.
Are Generators Really Necessary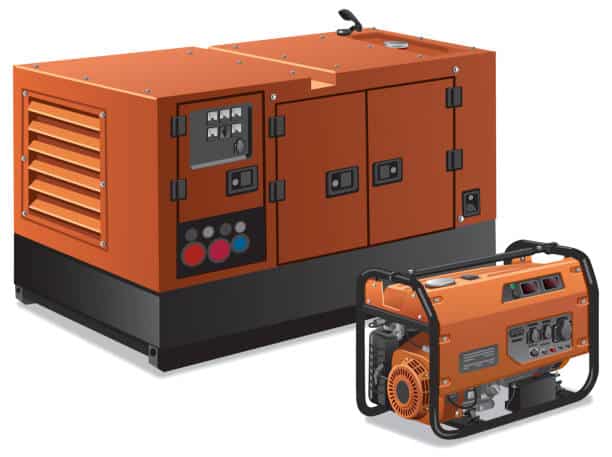 Image Source: iStock
Yes, having a generator boosts your home value; It is a necessity for homeowners and not a liability if you're keen on preserving your food from loss and spoilage due to constant power outages. Also, if you or someone in your home relies on durable medical equipment, a generator will be necessary at home.
How Much Value Does a Backup Generator Add to House?
Yes, generators are highly sought after and fast gaining popularity today, especially portable/diesel generators, because of their energy efficiency, incredible performance, and longer energy lifespan.
And according to Consumer Reports, a backup generator properly installed by a licensed and certified electrician in your house can increase the resale value of your home by 3% to 5%.
Portable Generator vs. Whole-House Definition
Portable Generator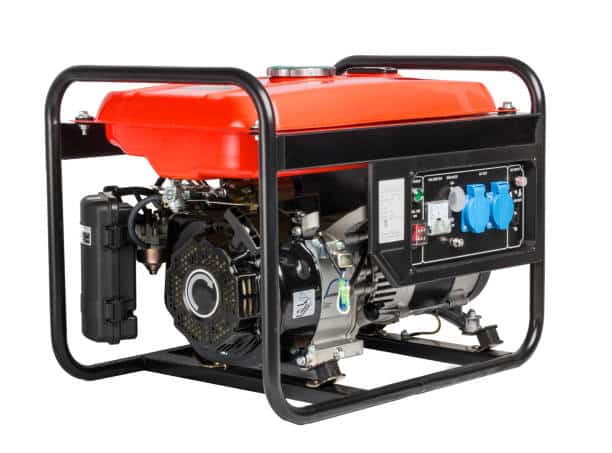 Image Source: iStock
With prices beginning from $100 and above, portable generators are devices seen all over hardware store shelves during winter. Equipped with rubber tires for easy movement or transportation from one place to another, portable generators provide temporary power backup when needed. These backup generators come in different sizes and are powered by diesel, natural gas, propane, or gasoline.
Whole-house Generator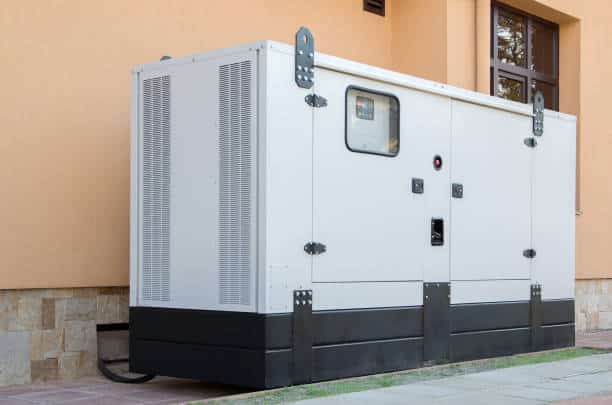 Image Source: iStock
 Whole-house generators, also called fixed or standby generators, are permanently located outside the house. Costing thousands of dollars, whole-house generators are installed by licensed electricians to power your whole house and upgrade your home to make life run smoother. The appliances are usually similar in look and size to a central AC condenser.
Portable Generator vs. Whole-house Pros and Cons
Standby Generator Pros vs. Cons
Standby generators are ideal for organizations and homes because they can start up automatically after a power outage. Listed below are some of the pros and cons of installing one.
Pros
It is dependable and convenient to use.
Can run for a very long time and power the whole house even when you aren't home.
Has an insulating cover.
It turns on automatically.
It works quietly with not much noise.
Cons
It's expensive and needs a sizeable investment to set up.
Not portable because it's permanently installed.
Portable Generator Pros vs. Cons
The last thing you don't want to see is to come home to a refrigerator full of spoiled food; that's why you want to have a portable generator in your home, at least. Check some pros and cons of a portable.
Pros
Small and more lightweight than standby generators
Capable of powering essential appliances
Some brands have encapsulated designs
Easy to repair because spare parts are readily available
It can be used outdoors, in an RV, and at home
Cons
It can't power an entire house or luxury devices.
It has a small tank
It emits carbon monoxide poisonous to humans.
Standby Generator vs. Portable Generator: Which is a Better Option for Home?
Power Output
A portable generator provides a power output between 500W to 17.5kW and runs for less than 12 hours. This implies that you can keep a few appliances on simultaneously. On the other hand, standby generators produce very high power, ranging between 10 to 50 kilowatts, and can keep all home appliances running simultaneously whether needed or not.
Therefore, comparing a standby generator vs. a portable generator, the latter is better because it helps you decide which essential appliances to leave on instead of putting on all devices simultaneously and helps conserve power for later times.
Lifespan
Several portable generators have an estimated work operation of 1000 to 3000 hours and a lifespan of 10 to 15 years. It is more than just enough to purchase a portable generator from a reliable energy storage manufacturer; regular maintenance will extend the lifespan of the generator.
On the other hand, how long you can continuously run a standby generator depends on its usage. Having its tank full of fuel should be a priority for your business. However, a standby generator can be used between 15,000 to 30,000 hours without much hassle since it has a lifespan of 20 to 40 years, depending on its maintenance and usage.
Therefore, in comparing whole-house generators vs. portable generators, the latter is better since it has a shorter lifespan and requires less maintenance cost over the years.
Fuel-efficiency
Most portable generators are powered by gasoline, and a standard 5 kilowatts portable generator will likely consume about 0.75 gallons per hour. In comparison, a permanent or standby generator is typically powered by propane. A 22kW standby generator consumes about 2.1 gallons of fuel per hour at half full. If a gallon costs $2.50, that's $110 per day. A fully loaded propane generator may burn up to 3.6 gallons per hour, meaning $220 per day.
The winner is a portable generator because it's more fuel-efficient than the standby generator, which cost more to run and power the engine.
Price
The average price of a portable generator that can handle about 7000 watts and power many lights and appliances in the home ranges from $500 to $2000. The minimum set-up makes the total cost vary between $530 to $2030 and a fuel purchase of $30 for 48 hours of use.
While a standby generator that powers the whole house costs between $2000 and $6000. You must also factor in the installation cost and the extra cost of calling a licensed professional. Going by the price differences and other expenses involved in automatic standby generators vs. portable, portable generators are more affordable than whole-house generators.
Versatility
Portable generators are more versatile than standby generators because they are used in homes, RVs, and outdoor arenas. For instance, portable generators can be wheeled outside to provide power for mowing the lawn. You can charge your laptop, smartphone, and BBQ grill in remote areas.
While whole-house generators are permanently installed outdoors and can't be moved, this makes portable generators more versatile.
Runtime
Portable generators have a total runtime of 2000 hours. They are constructed to run in shorter increments of about 6 to 18 hours. The device is handy for RVs on camping trips or power specific home equipment in an emergency. On the other hand, a standby generator powers medium-sized homes for 3000 hours and can run all day, provided there's fuel.
Although portable generators have a shorter runtime than standby generators, they are handier and best in times of emergency than the latter.
Safety
Are standby generators safer than portable generators? Portable generators release large quantity Carbon monoxide gas into the environment during operation, which can be poisonous to health. While standby generators emit a small amount of this deadly gas compared to portable generators. However, portable generators have safety features like overload protection and low oil shutdown feature to safeguard the life of your engine. These features make it safe when used outdoors and better than a standby generator.
Maintenance
Portable generators are maintained at little to no cost. The main thing is to check that the fuel is out before storage and to ensure that there are no rusting or lose wires before operation.
In contrast, a standby generator requires more maintenance, such as regular servicing (especially if running for hours), annual inspection, etc. And most companies run a maintenance plan that requires a monthly fee. Therefore, a portable generator has the edge over a standby generator in terms of maintenance.
Installation
You rarely need to install a portable generator. All you need do is set up your generator, fuel it, plug it into your home circuit, and get it running. But standby generators need to be professionally installed, usually by the supplier. Also, you need a plumber to connect the generator to a fuel source, either propane or natural gas, and the fuel supplier must perform an inspection.
Going by the installation requirements of a standby generator, a portable generator is better because it requires less installation process.
What to Look for in Buying a Generator
Purpose
If you plan on purchasing a generator, then you must define the purpose it's to serve. To find the appropriate generator for your home, it's necessary to figure out what purpose you want it to accomplish.
Do you need it to power your entire home or just for emergency purposes? The answer to this question will determine what size of generator you need to get, where to locate the switch, how to install the generator, and more.
Installation Requirements
When purchasing a generator, you also want to ensure enough space for its installation, which must be installed in an accessible area away from water to prevent corrosion.
There are code requirements for installing generators with minimum distance from walls and buildings when installed outdoors because they need ventilation.
Price
The generator you want to purchase should fit your budget. When purchasing a generator, it's essential to clearly define the details and duration of the warranty that comes with your unit. Some generators have a better price but with a low guarantee, or some need help with the unit.
It's possible to get a reasonably priced home generator with a five-year warranty that'll last you several years. However, first, determine the needs you want your generator to fulfill before settling for one, and don't just buy a cheaper one where you have to spend more later.
Looking for a Portable Generator?
So, which generator is worth your investment? Obviously, in terms of safety, portability, maintenance cost, price, operation, etc., the portable generator has a cutting edge over the standby generator.
If you want to purchase a portable generator from a well-trusted and reliable manufacturer and supplier, think no further than Sunly Power. Our portable generator is worth every of your penny!